The Google Home smart home system
All there is to know about the Google Home smart home system
It has been often said that that smart homes are the future of the construction industry. The statement itself cannot be contested but there are some uncertainties regarding the "how", because there is a plethora of various smart home systems and devices on the market, of which more likely than not only the biggest, the best and those that can stand out from the crowd will be able to survive.
It goes without saying that Google's smart home solutions can stand their ground in all categories because Google Home is a constantly evolving, future-proof alternative offering excellent integration possibilities that enjoy the one of the strongest supports in this segment.
This is an intelligent system that is always there when you need it, helps you coordinate the various aspects of your home, monitors the operation of the automated units, you can even control it both from your phone or via voice commands, and it has a multitude of convenient and fun features to keep you happy. Let us delve into what exactly can Google Home do for you!
General introduction of Google Home
What is Google Home?
In a nutshell, Google Home is a voice-controlled smart speaker that acts as the hub of the smart home system and is filled with life by Google Assistant, the proprietary digital valet of the search giant.
Google Assistant is an artificial intelligence that you can communicate with using voice commands.
You can ask questions which Google answers by starting a search and presenting the relevant hits to you.
You can make it play your favourite music and access and even amend all Google's services, be it your e-mail, calendar entries or searches.
Google Home allows you control integrated and compatible smart devices using your voice or via your phone that can act as a remote access device.
Its operation is just as simple as that of other smart speakers: all you need to do is say 'OK Google' loud and clear to activate the system which will start listening for a voice command, be it a simple internet search or an instruction to lower the shutters, control the heating or adjust the lights.
Google Home – product design
Many people are reluctant to admit to their home devices and pieces of equipment that are not in harmony with the style and atmosphere of their surroundings. In this respect, Google Home is a highly versatile piece of kit because its design is simple, clear-cut, almost minimalistic and its shape resembles a jug or a sizeable water glass.
Today it is available in various colours but its default guise a greyish bottom and an off-white top part with its top cut off at an angle – the overall effect is markedly uncommon but highly modern. As is the device itself that has no buttons or sensors, only a few colour LED's on the top touch panel that will give you some feedback about the operation of the unit.
Operation
The way you control or invoke the help of the Google Home unit depends on the situation. You can use voice control as mentioned above, access some of its features using the touch panel on the top or you can use your app running on your phone or computer to issue instructions.
Compatible devices
Google Home is widely supported so you can use it to directly control a huge variety of devices. It would be difficult to list all the equipment you can connect to it; the list includes entire lighting and security systems, heating, cooling and ventilation control units and, via Chromecast, you even can use Google Home to control your entire home cinema or HiFi equipment.
One of the biggest advantages of Google Home is that contrary to some of its competitors it has full Google integration, i.e. all the services offered by Google including YouTube, Maps or Calendar are accessible via Google Home. If you want to add a new event to your calendar or are looking for a good restaurant nearby, you just need to say 'OK Google' and follow the voice prompts.
Google Assistant and voice control
The technology behind voice control of the Google Home smart speaker is Google Assistant that is always there for you to carry out your commands. The underlying artificial intelligence can constantly learn and can not only understand your instructions but is also able to take their context into consideration and come up with a response accordingly.
Experience shows that the more you use Google Assistant the better it becomes at coming up with results that suit your tastes and requirements. To name an example, if you want to find out when Michael Jackson was born, Google Assistant will get you the answer and you will not need to say his name in the next question: 'Where was he born?' will suffice.
Having to say 'OK Google' before each and every question may sound like some nuisance but you are not chatting with the system for hours on end so this is just a minor issue. Especially because the technology itself is working smoothly and efficiently.
Sound quality
In general, Google Home does a better job at understanding your instructions and is easier to control than Apple HomePod, but as far as sound quality is concerned, the Google product has some deficiencies. These are, however, excusable in view of the price tag. If you are a music buff then Google Home may not be the best option for you but the communication with the digital assistant and the sound clarity of its feedback are not bad at all.
According to test results, the sound quality produced by Google Home is, interestingly, far better, richer and more colourful than that of Amazon's smart speaker. And, if you connect it to a good quality sound system you can enjoy Spotify, Pandora, iHeartRadio, TuneIn and of course Google Play Music and YouTube Red. You can even save your own music collection to the cloud so you can access songs and recordings with it that are not available from any of the streaming providers.
Smart home integration
Obviously, one of the key tasks of Google Home is the management of a smart home: it enables you to operate all the connected devices with a few simple commands and the help of Google Assistant, even separately in the various rooms of your home.
You can, for example, lower the shutters separately in the upstairs rooms while you are busy in the kitchen downstairs, or you can turn up the heating in the nursery before the kids wake up. One of the highlights is that you can set more than one operations into motion using one single command, so a simple 'Good night' will turn all the lights off, activate the security system, dial the heating down, lower the shutters and turn the TV off. All at once!
Of course it depends on the specific device how much control you can take over it using Google Home. If you add a Chromecast TV streaming device to the system you can use the smart speaker to start your favourite TV shows, search videos on YouTube – completely eliminating all remote controls from the equation.
The Google Home application
Most smart home systems come with a smart phone application that enables you to change the settings of the smart home system itself and of the connected devices, too. With Google Home you can do so using the eponymous application. According to even the most conservative estimates there are at several thousand devices currently on the market that can be directly controlled using the Google Home application including thermostats, cameras, security solutions, shading equipment or lighting technology.
Paired with the smart speaker the Google Home app offers a highly comprehensive control alternative complete with quick commands for the most frequently used devices, monitoring your automated processes and issuing new instructions, but you can also create so-called 'routines' which is Google's equivalent of batch instructions that use one single command to trigger a chain of processes throughout your home.
Another reason why the Google Home app is a highly expedient addition is that it allows you to gain remote overview of the events that are happening or happened inside your home. You can also use it to set up a Nest WiFi network, test system speed, share your wireless internet access with your friends – even temporarily, if required – and you can also grant separate internet access to your kids that they can use under your parental control.
Skills, voice calls, voice recognition
Speaking of Google Home we should highlight some features that are not conventional but will improve the smart aspects of your home considerably.
'Skills' are maybe a little less sophisticated than Amazon's Echo, but they still offer many pre-set services including ordering a pizza or calling an Uber that you can access with a simple touch of a button or a single voice command.
Google Home will also enable you to initiate voice calls, although you need to remember that receiving calls is not supported – this is not that big deal though. Not many would use this feature anyway because your phone is always nearby anyway.
Another feature we have not mentioned yet but is worth a look is the voice recognition feature that is a futuristic option offered by Google Home. The device can recognise the voice of various family members and will use their respective account, search history and tastes as long as they are using the system.
Devices connected to Google Home
In general, Google Home based smart homes are compatible with several devices that, being proprietary products made by the search giant, are there to increase the number of features available in your property and to make everyday use easier and less monotonous. Let us see some examples!
Google Home Mini
Google Home Mini is an excellent and affordable option if you wish to enjoy the blessing of voice control in all rooms of your home – it offers most of the features of its bigger brother but in a smaller form factor and, consequently, at a more favourable price.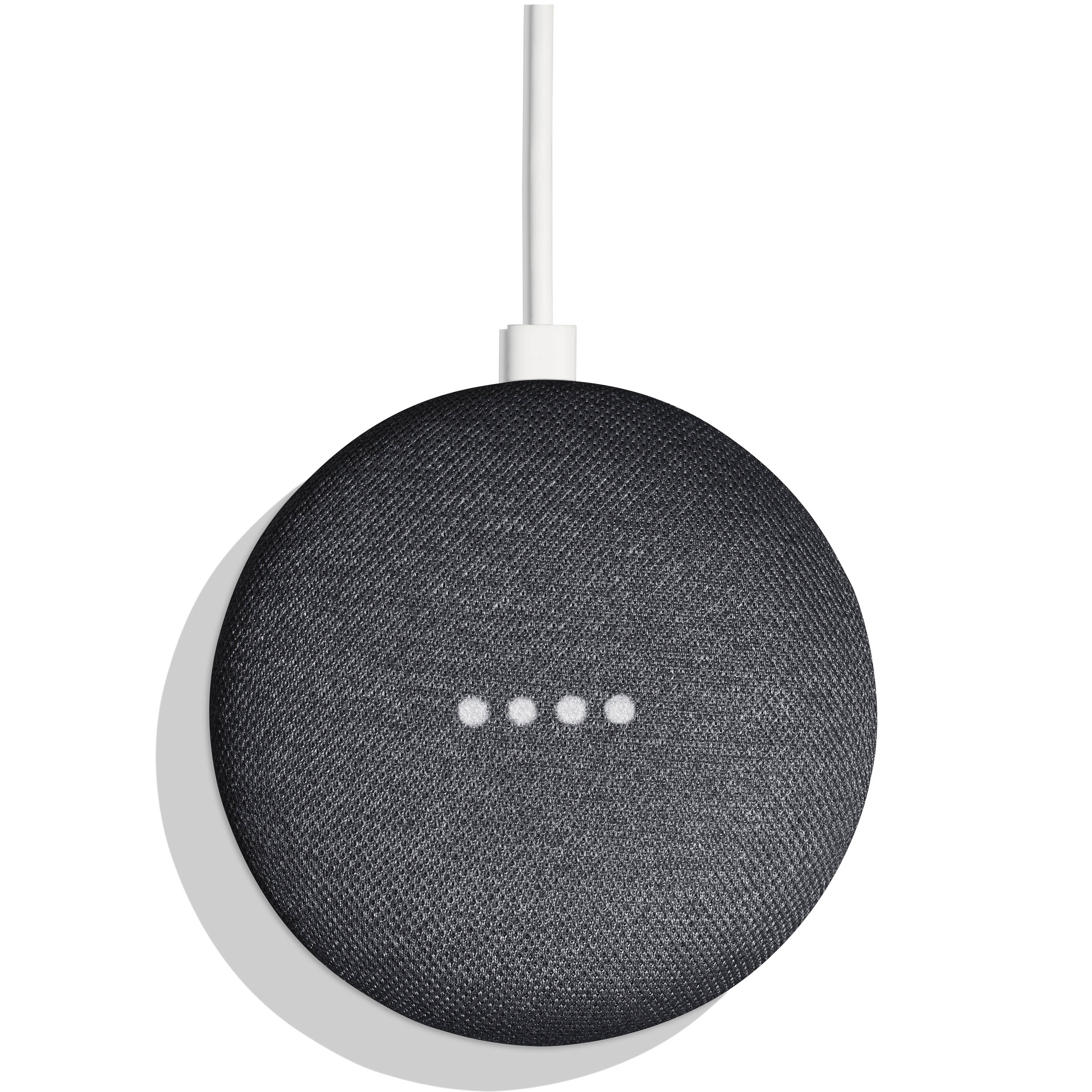 It allows you to access Google Assistant and all the related intelligent features, so you can control all the smart devices of your home from, say, your bedroom, initiate internet searches, check the weather and, similarly to the larger Google Home speaker, it recognises the voice of all your family members, identifies those around it and tailors the search results to their individual preferences etc.
Besides being compatible with practically every Google service it has a simple LED display to make its use easier. It is available in several colours to match the style of the room you use it in. Thanks to its non-slip surface you can even put it on a glass table and its setup process is very simple – all you need is the Google Home application.
Google Nest Mini
Google Nest Mini is the second generation of Google Home Mini, an improved version of the intelligent speaker that offers a better control of your home than ever before, while retaining the compact size of its predecessor in a competitively priced package.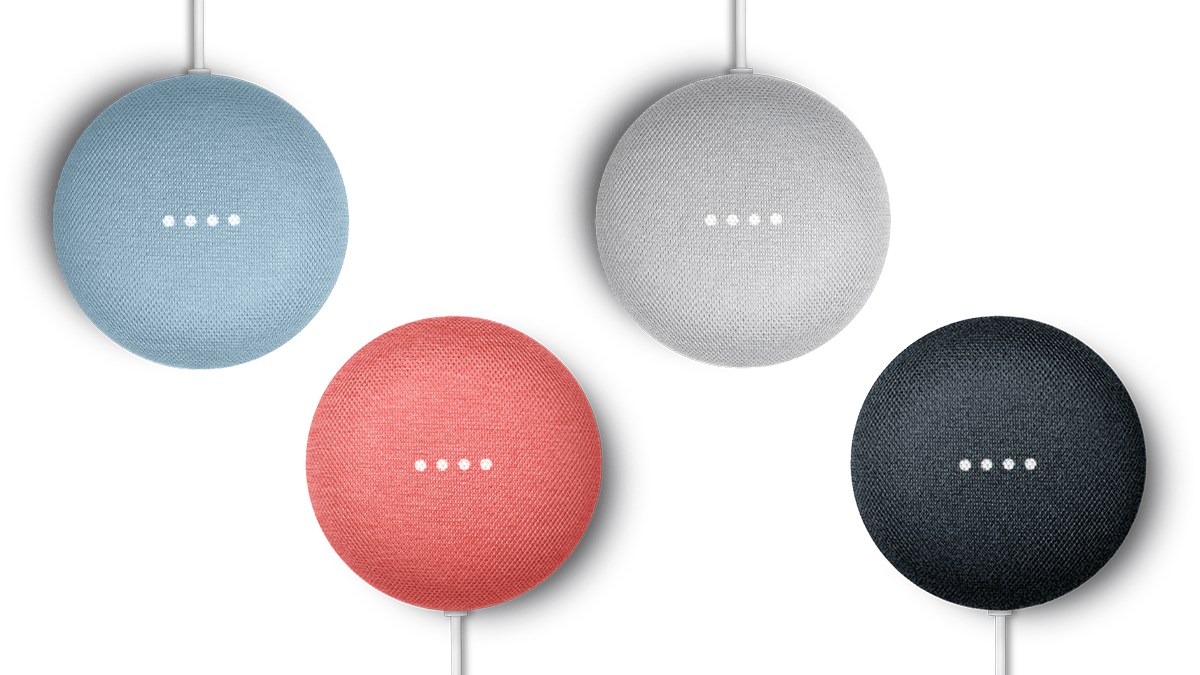 How does it differ from Google Home Mini? For starters, you can not only store this device on your desktop or night-stand but also hang it on the wall using the clamp at the back while it has a sound quality that defies its small size and spares its users a lot of inconvenience.
Naturally, it has Google Assistant built-in that recognises which member of the family has addressed the unit (and adapts its settings accordingly), you will be able to control your connected smart devices including the heating, lighting or the security system, but you can also start playing music and films, check the weather and start internet searches. All this is just the tip of the ice berg of course.
Beyond being compatible with a huge number of applications including YouTube, Spotify and Chromecast the manufacturer even thought of the environment: the product is made entirely from recycled plastic bottles.
Google Home Hub
One of the latest members of the Google Home product family is the Home Hub, a central control unit featuring a 7" touch screen – practically the combination of a tablet and a smart speaker that is compatible with several thousand products and of course supports Google Assistant.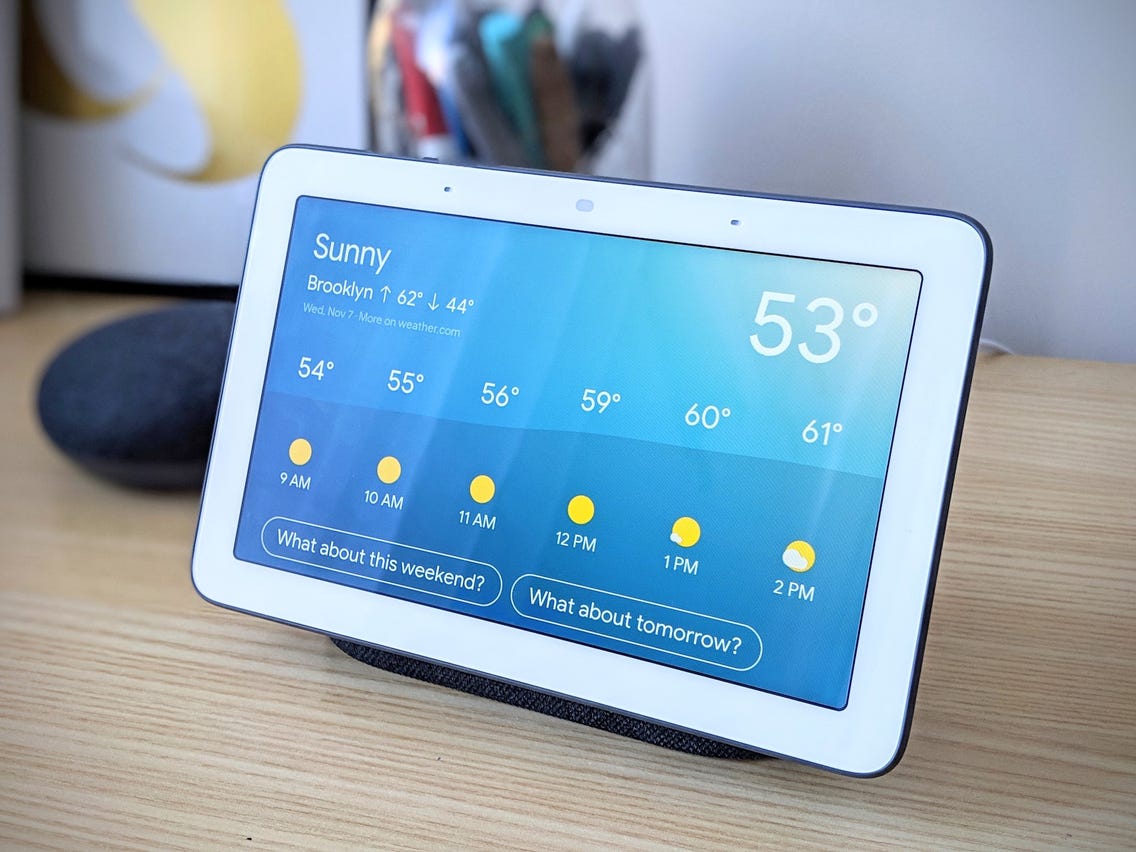 In general, the Google Home Hub has all the features of Home Mini and Nest Mini and as such it enables you to control all the connected components and devices of your smart home using voice commands.
Of course you can use it to search the web, request general information, listen to music or watch YouTube, and its Voice Match feature recognises the family members interacting with it so that it can adapt its settings and search results to suit their specific needs.
On its display it can always show the time and other useful info of your choice, it can display images from your search results or even show the live image of your security cameras so that you can check who rang your doorbell. At night it turns on night mode so as not to disturb you while you sleep if you keep it beside your bed.
Google Chromecast Ultra
A smart home requires a smart television but having one in all rooms of a larger family home is quite an expenditure. This is where Google Chromecast Ultra comes in handy which is a TV 'smartifier', i.e. a media streaming device that is connected to your conventional television set via HDMI and can mirror a Chrome browser screen onto your TV from a connected phone or computer.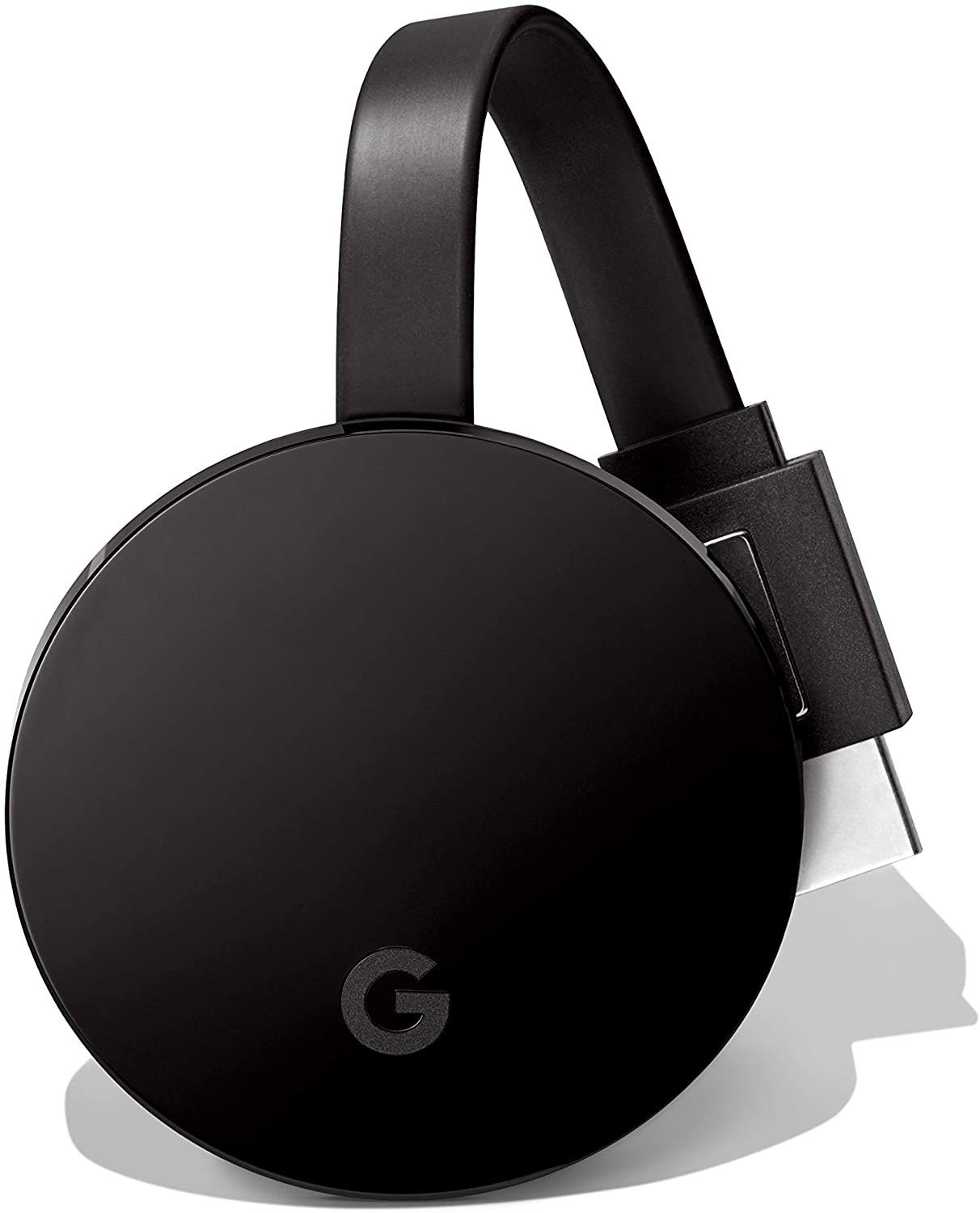 It also comes with full Google Home support and it enables you to watch YouTube videos, films streamed from online sources or any content that you can display on your phone, tablet or computer. You can browse the internet, view photos and even play games, all in Full HD resolution of course. One of its biggest advantages is that it requires no installation, you only need to connect it to the power source, your TV, then to your WiFi network and you are set.
Third party devices compatible with Google Home
It is important to note in connection with the Google Home system that there are many third-party devices available to complement it. By today's estimates there are more than ten thousand smart devices that can communicate with this smart home system, owing, mostly, to the fact that many manufacturers have come up with solutions that specifically support Google Home. Let us highlight some of most interesting ones below.
Samsung SmartThings Hub
The SmartThings Hub, brought to life by Samsung, can be a useful device in a smart home if you wish to operate a larger number of automated devices. As its name implies, this Google Home compatible product acts as a hub to connect several intelligent devices (thermostats, door locks etc.), enabling the user to control them from one central interface.
Such a central unit makes managing your smart home much easier especially if you consider that Google Assistant even enables you to control your connected devices using voice commands. This means you can lock or unlock your doors, turn the lights on and off or the heating higher or lower, just to name a few examples.
iRobot Roomba 980 robot vacuum
Impeccable cleanliness in your home – every single day? If this is what you are aiming at, then you will need a Google Home compatible iRobot Roomba 980 robot vacuum that can clean your entire home without your intervention. This device is especially nice to have because you can control it using Google Assistant, which means you can launch it for an unplanned cleaning run between two scheduled sessions any time.
All you need to do is turn it on using the command set up in Google Home, activate it and give an instruction to clean up the room in question. When it is finished, you can stop it and send it back to its docking station with a just a few commands. In most cases you do not even need to use the robot vacuum's accompanying smart phone application because you can control the unit through Google Home, too – the two systems are compatible.
LIFX Smart LED lamp
An automated intelligent lighting system is one of the basic features of any smart home today. Google Home is compatible with a great number of well-known and reliable technologies, including the LIFX Smart LED lamps. This lamp will let you forget conventional light switches and dull weekdays because Google Assistant can turn the lights on and off, adjust the brightness and – because this lamp is capable of reproducing 16 million different colours – even the colour of the light with a few simple commands issued by you.
All this with a brightness of as high as 1000 lumens, with the added benefit that it does not need a special connector, as opposed to Philips Hue. It has its own smart phone app of course but Google Home makes adjustments a lot easier because it enables you to change all settings down to each individual light bulb. This is not only convenient but also useful because you do not need to leave the room if you want to turn the light on or off in the entire home or in specific rooms.
TP-Link HS100 smart plug
The special feature of the TP-Link HS100 smart plug is that it facilitates controlling of all the connected devices in your smart home that have no dedicated smart function. You can plug in it lamps, computers, refrigerators or even a WiFi router that you can turn on and off by issuing the relevant command.
Even though it also has a dedicated smart phone application, Google Home and Google Assistant will enable you to use easy to remember voice commands, which is probably the simplest way to equip any device with some smart features, even if in such an indirect manner.
Chameleon Smart Home + Google Home = the perfect smart home
Even though Google Home is a significantly more open system than e.g. Apple HomeKit, there are still many devices that cannot communicate with and cannot be connected to it, which means in many cases it is impossible to implement a perfect smart home system using Google Home only.
This problem may arise for newly built smart homes or if you wish to expand an existing, Google Home based smart home system when you cannot integrate the new device. Is there a solution?
Your best option is Chameleon Smart Home that by serving as a central hub will act as an 'interpreter' between Google Home and the devices that could not be connected to it otherwise.
The Chameleon Smart Home technology will be the perfect complement to any Google Home based smart home because otherwise it is nigh on impossible to set up a system whose individual components can communicate with each other without any restrictions. Failing that, your smart home would never be a future-proof or a truly open system.
The future of Google Home
In general, it is fair to declare that Google Home is one of the smart home systems exhibiting the most dynamic development – an advantage that the search giant is doing its best to exploit by always being the first to support novelties and by offering ongoing development. Google Home has from the outset been compatible with a plethora of future features and options, including those that are still in the prototype or blueprint phase waiting for a manufacturer to implement them in practice.
One thing is sure: Google Home will remain one of the dominant smart home systems of the future: it lends itself as the basis of comprehensive smart home systems, features on-going integration of new solutions and all manufacturers are keen to ensure that their devices can communicate with Google Home and Google Assistant. A quick glance back over the past few years will be enough to see: this system has undergone some impressive development and the pace is only getting faster all the time.
Google has also teamed up with CHIP
Considering the future of Google Home (among others) one of the biggest news is that the company joined forces with the Zigbee Alliance which, together with Apple and a number of other smart home companies wishes to establish a common communications platform for all devices installed into smart homes.
This new platform will be called Connected Home IP (or CHIP for short) and will facilitate the creation of uniform systems easier than ever. CHIP is an open standard that will enable the products of practically any manufacturer to communicate with the products of other brands. This would mean a huge step forward for Google Home, too, because it will drastically increase the number of products that can be controlled easily with this system in the future.
What else does the future hold?
We expect Google's engineers to continue developing new devices so we will see a consistent expansion of available products, the arrival of new generations exhibiting software- and hardware-related improvements, including more powerful speakers and microphones, a more precise and smarter Google Assistant, designs that follow the interior design trends of the time and cater for the requirements of various sectors of society.
The goal is that smart home solutions should become affordable for everyone and Google will probably be a partner in this process. They will also pay special attention to technological advances related to security, even though the Google Home system is already one of the best players in this field. But as studies show that when it comes to smart homes security is one of the topics people are especially concerned about, the company will presumably devote even more attention to this aspect in the future.
Chameleon is a "system-independent smart home expert". This means it adapts not only to the weather, your rhythm of life and your mood, but also to the next generation of systems. Because it provides a rugged, flexible core infrastructure to which you can connect any manufacturer's product - anytime.
---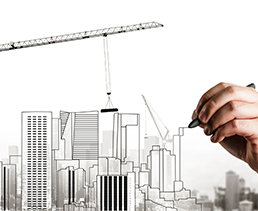 DISCOVER THE SMART HOME