The Apple Homekit smart home system
All there is to know about the Apple Homekit smart home system
The term "smart home" has been gaining popularity in Hungary recently. The reason is that it has become a buzzword of the industry: it is easier to sell a property if it is "smart", i.e. it features automated and intelligent solutions.
There is a hitch though: many buildings are termed "smart" today that, at best, comprise a few smart components which, however, do not constitute a unified system. And in a smart home at least the related components should communicate with and complement each other to provide the best possible comfort and ease of use, and of course the peace of mind that integrated security and economical features can offer.
To achieve this, we need a smart home system – Apple Homekit is one of the best known and most frequently used options despite the fact that at present it is still a rather closed system. However, combined with the Chameleon smart home solution it can be converted into a truly complete, future proof and efficient smart home offering.
We will come to that later – first, let us see in more detail what we need to know about the Apple Homekit smart home system in general.
General introduction of Apple Homekit
What is Apple Homekit?
Apple first used the term Homekit at the 2014 WWDC Expo. Right from the start Apple's goal was to create a framework that could provide users with smartified, automated features in their newly built or existing home. Apart from security, one of the long-time focus of the company, they were aiming for a transparent, easy-to-use and uniform solution that would enable the operation of all smart devices in the home from a single control unit.
Thanks to several years of development Apple Homekit has become one of the best smart home systems on the market, partly because it is easy to operate and partly because the list of compatible devices is growing steadily. Manufacturers that can meet Apple's very strict requirements can hook up their devices with Apple's smart home system. One of the big advantages of compatibility is that intelligent devices in the home can "see" and communicate with each other. That said, there is a drawback, too: this applies only to devices that are compatible with the Apple universe.
Apple HomePod, the hub of Homekit
Even though Apple's smart home solution can be controlled in a number of ways, all automated properties will need at least one HomePod unit that is the key to controlling the system. The HomePod is a smart speaker that with Siri, Apple's digital assistant on board, offers a plethora of intelligent options from controlling various devices and playing music to looking up general information (news, weather etc.).
As many users identify Apple Homekit with the HomePod device itself – this is true for Google Home, too – it seems appropriate to give a short overview of the features of this smart speaker here. We can say right off the bat that it will become one of the key pieces of equipment of your home, both as regards its use and its aesthetic appearance.
It has an appealing product design that looks just as nice and spectacular as any Apple product. The grille is a stronger indication of its speaker function than as is the case with its Google counterpart. Today the HomePod is available in a variety of colours, the most prevalent being the greyish-black version, although similarly to its smaller brother, the Mini, which has a different design, it is often seen in a white guise.
The HomePod has no visible buttons or sensors but there is a touch panel on top that also acts as a visual feedback interface thanks to the colour LED's behind it. This is where you can adjust the volume, start playback, skip songs etc. The unit looks and feels like a premium product in every respect so it fits in well with the concept of a smart home – and it obviously performs as a premium product, too.
Sound quality
Sound quality is of key importance for the centrepiece of a smart home such as the HomePod. In general, it is safe to say that the sound quality of this device is just as premium as its looks, as we have come to expect of any Apple product.
It is an excellent choice if you wish to listen to the radio or some music because it is small but powerful and could serve well in a midsize apartment. As it supports practically all streaming platforms from Apple Music to Spotify, the choice of songs available will always be more than sufficient.
Sound quality when communicating with Siri is also excellent, both the questions and the responses are always crystal clear. It is worth noting, however, that Google Home has somewhat more advanced abstraction skills: it is easier to control and can better understand our intentions. This is probably just a software issue and not a hardware glitch so Siri may need some software fine-tuning in this respect, even though its deficiencies are not significant by any means.
Apple Homekit – operation
The actual devices to be used with Apple Homekit depends on the home owner really, but there are a few alternatives that will give the best results if combined with each other.
Control using HomePod
As we have just given an overview of HomePod, the device that is considered to be one of the potential hubs of Apple's smart home system, it makes sense to look at the features it offers when used to control the individual components of the smart home system. The user will be relying on the help of Siri, Apple's digital assistant which we will discuss in more detail later but we should highlight some of the key aspects here that we will need to consider.
HopePod will help you implement excellent voice control capabilities in a smart home built around Apple's Home Kit. As soon as you say the "Hey Siri" command the device is activated and starts to listen for one of the pre-programmed commands that may control one single device or a group of devices in your home.
This is a futuristic and still easy-to-use method that requires no IT skills. It is enough to set it up once and learn the commands before you can start watching your favourite film or turn off the lights with one single spoken command.
Control using the Home application
As our smartphone, a tablet or a computer is always at hand, Apple, a company that has its own, particularly strong ecosystem, made sure to develop a separate application to control the Homekit system. This is the Home application that you can install on iPhones, iPads or Mac computers to be used as the control hub of Apple Homekit – you can even use it to control your home remotely when you are away.
The application has seen some spectacular improvements over the past few years; updates and tweaks arrive regularly so it is not only available in Hungarian but offers many setting options that make controlling your smart home easier, be it the entire apartment or some components thereof.
You can view and access all the rooms and all the smart devices and auxiliary units, but you can also set up "scenarios" to control what should happen e.g. when you leave home. You can lock the doors, power off parts of the house and activate the security system by the single touch of a button. The application can control devices that support the Homekit or AirPlay 2 technology. In other cases you will need a third-party communication platform and another piece of software application to gain control of non-compatible devices.
What devices can you connect to Apple Homekit?
The number of manufacturers and devices that you can connect to Apple Homekit grows week by week. This is why it is important to look for the "Works with Apple Homekit" logo when designing or extending your smart home system. If you pick a product that bears this logo you will have no problem connecting it to Apple Homekit.
Today many third-party products can be added to the system but you will need Chameleon's Smart Home technology that can coordinate the operation of the problematic unit and the other components of your smart home to ensure communication at least between the key components.
Needless to say that Apple-approved and supported products can perform almost every task that you may ever need in a smart home and include locks, light bulbs, thermostats, door bells, cameras, air purifiers, speakers, irrigation equipment, garage doors, taps, routers, televisions and a host of other devices.
The Home application
As mentioned above, one of the prerequisites of controlling and managing Apple Homekit is the Home application that can be installed on most devices manufactured by the Cupertino giant to enable the user to control – even remotely – the entire smart home system.
This application makes it possible to manage the existing or future devices of your smart home. They can be grouped by rooms or zones and after an initial setup they can be controlled by Siri or from a HomePod unit.
Apart from adding new devices the Home app plays another important role in managing all the settings of the connected devices from one place. You can switch between operating statuses, calibrate the parameters of the various devices or group them by rooms or zones which will make controlling and coordinating them easier later on – even using the voice control option
Siri and voice control
Now that we have mentioned it so many times above it is high time we discussed Siri, Apple's proprietary digital assistant, the equivalent of Google's Assistant and Amazon's Alexa. Apple users will most likely be familiar with Siri as it is present in practically all products of the company. It plays an important role in controlling Homekit using the owner's voice commands.
You can make the most of the features offered by this digital assistant if you talk to it through a HomePod unit. The advantage of this method is when you are near this smart speaker you will only need to say "Hey Siri" and the assistant will be ready for your commands. You will not need to press buttons, fish your phone from your pocket or turn the computer on.
Even though Siri understands only English, which may sound like a drawback for some users, but it is easy to learn the basic commands to turn the lights on and off, control the heating or the shutters. A big bonus is that Siri can carry out compound commands which means you can set a full chain of events in motion with just a single instruction.
Imagine this: you are about to leave home so immediately before stepping out the door you say "Hey Siri" and then "Goodbye". Depending on your settings, this will turn the lights and the TV off, put the thermostat in economy mode, activate the security system, lock the entrance door in a few seconds and so on. The same can be set up for your arrival, when you go to bed, wake up in the morning or for any other activity. The possibilities are endless.
Devices connected to Apple Homekit
As mentioned earlier, a complete Apple Homekit comprises not only software, so you will do best if you acquire some connected devices such as a HomePod or a HomePod Mini. What are they and what can they do for you? Let us see!
Apple HomePod
If you wish to control your Apple Homekit-based smart home simply, quickly and conveniently, you will need at least one HomePod speaker set up in a central location inside your home. The manufacturer had three main goals in mind when it came up with the idea of this product:
Facilitate voice control of smart homes, plus:
Expand the possibilities offered by Siri, its digital assistant and
Encourage customers to use Apple Music.
The HomePod, which looks like a thoroughbred high-end speaker, is a wireless solution that may look simple from the outside but is immensely smart from the inside. Apple has achieved some amazing sound quality with this device, thanks to the central subwoofer and the array of seven horn-loaded tweeters, each with its own custom amplifier. These surround the subwoofer behind the cover so they can present every sound with true spatial effect.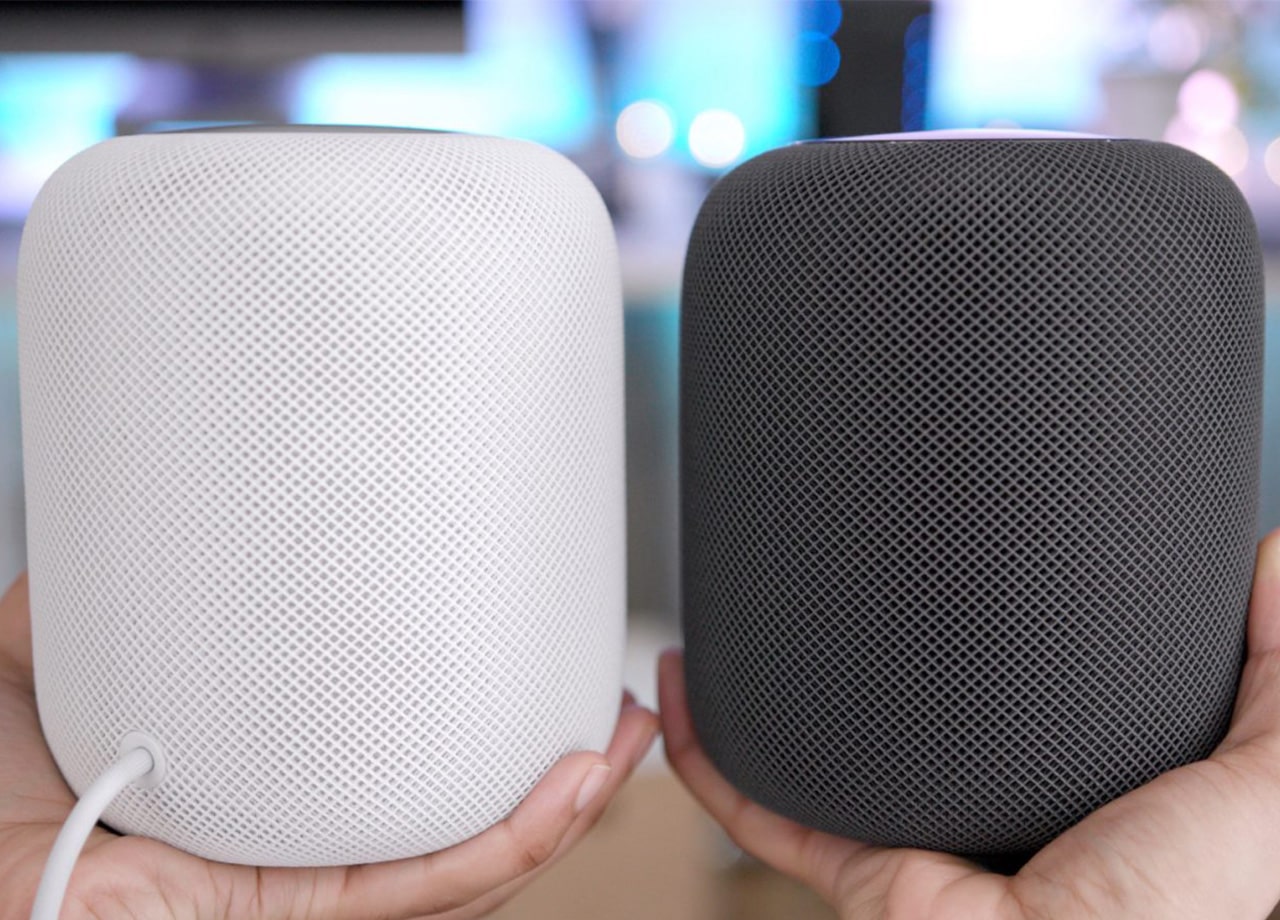 Besides the speakers this smart unit is packed full of microphones, too. There are six of them, all waiting for your voice commands. Information is processed by a powerful A8 central processing unit that has already proven its skills and reliability in the manufacturer's earlier smart phone models.
Of course the biggest bonus of owning a HomePod smart speaker is its full Siri integration. This digital assistant lets you control all the connected devices of your home while it also enables you to start web searches, listen to news broadcasts, radio or music, and it also enables you can get weather and traffic news – in short, it acts as a truly smart assistant that will always be there whenever you need it.
Apple HomePod Mini
As its name implies, the Apple HomePod Mini is a compact version of the manufacturer's hugely popular smart speaker. It offers almost the same feature set as its bigger brother – at a significantly more affordable price.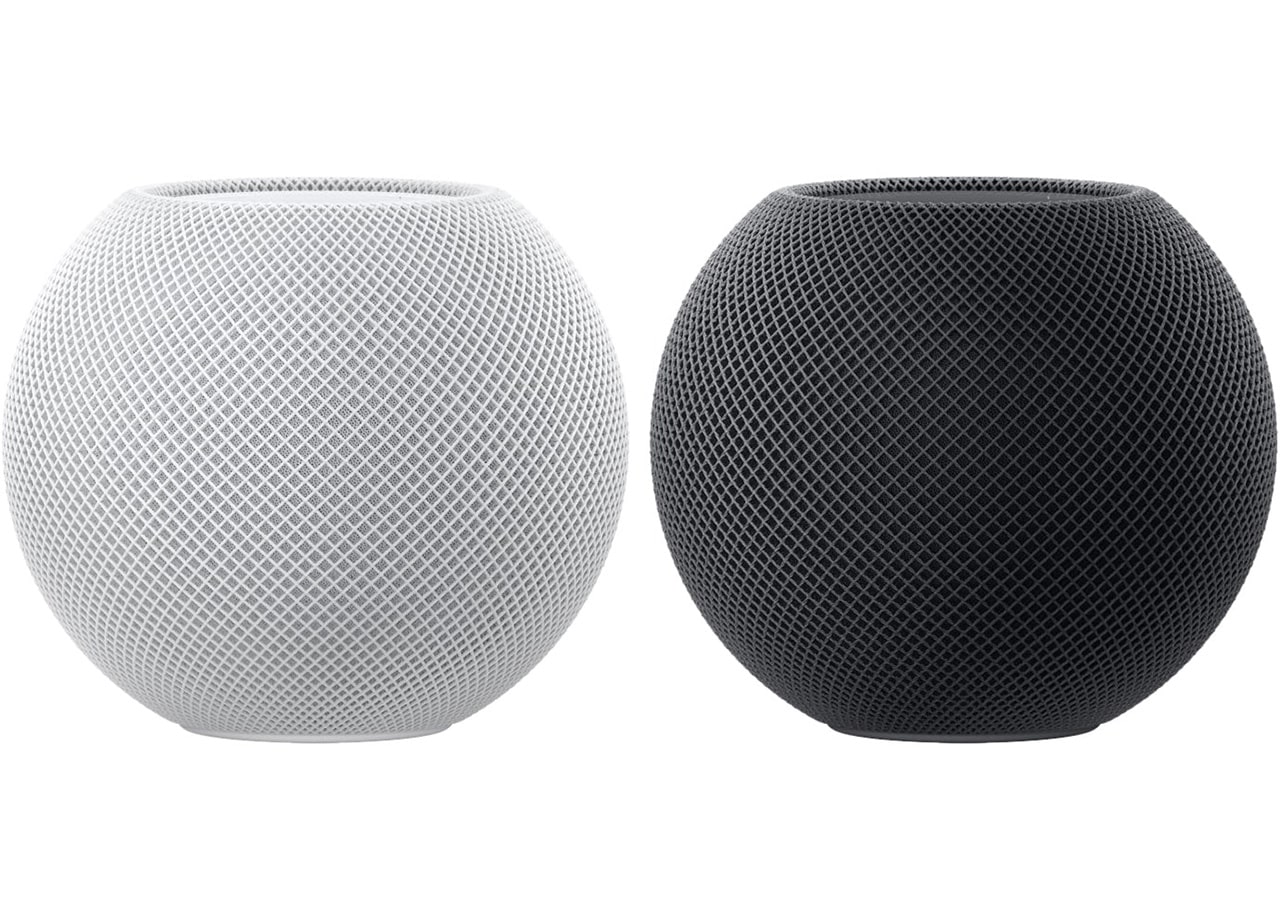 This makes a big difference because Apple's products are not famous for their affordability. The HomePod Mini can be yours at a fraction of the price of its bigger sibling – quite an advantage if you plan to use voice control in rooms other than your living room, including the bedrooms or the kitchen.
HomePod Mini is markedly rounder and smaller than the larger version. It is made from aluminium and a special fabric with a gesture control panel on top illuminated by colour LED's to give a visual feedback when Siri, the voice assistant is waiting for your commands.
As far as its hardware is concerned, HomePod Mini is built around the CPU of the Apple S5 phone that provides sufficient computing power for basic functions while the high-range speakers emit high quality sound. Passive dual radiators cater for some nice bass and the custom acoustic waveguides give you a 360° sound field. Two HomePod Minis can be paired to create an excellent stereo soundstage.
Apart from playing back music and controlling your smart home HomePod Mini can also be used as a walkie-talkie and, similarly to its bigger brother, can recognise your voice, so it is always aware of who is interacting with it and customises its search results and settings accordingly.
Devices compatible with Apple Homekit
Besides Apple's proprietary devices many third-party products are compatible with Apple Homekit. New ones are launched every week so listing them would be next to impossible but we can take a look at some of them to give you an idea of the scope of possibilities they open up for you.
Philips Hue smart bulb
Philips Hue is one of the most frequently used components of Apple Homekit based smart homes because a smart lighting system is a tangible, well-proven, universal and highly popular solution. The smart bulbs of Philips offer an excellent entry point to this technology, especially because the product range now includes accessories, switches, sensors and starter kits, too.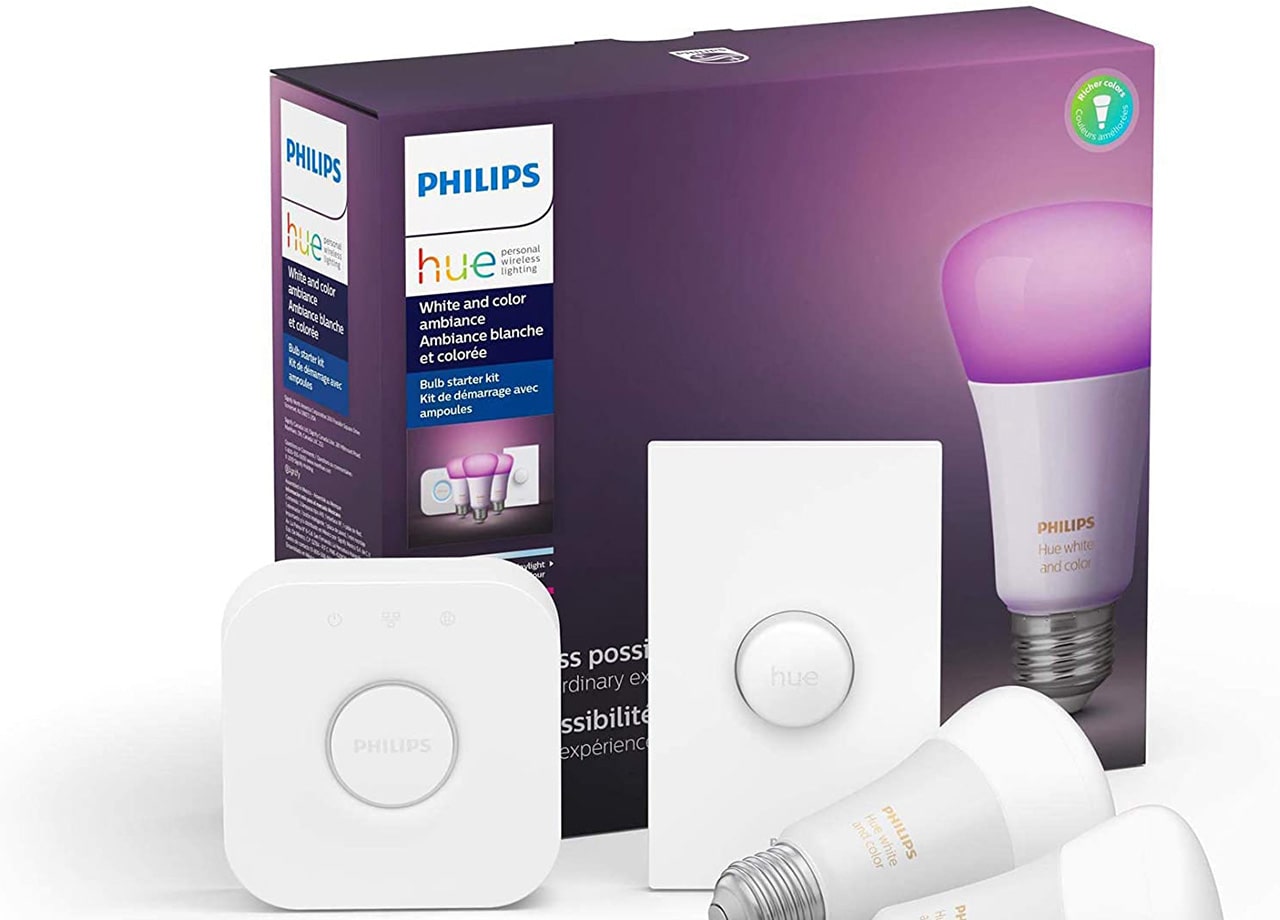 Smart bulbs enable you to create different lighting setups for each room of your home if you like. You can set timers to turn individual bulbs on or off, control the light intensity and even include bulbs in processes, e.g. to the routine triggered when you arrive home. If it is dark outside the home will welcome you with some lights turned on when you open the door or when the system detects your presence.
Fibaro controllers and plugs
Fibaro offers a huge selection of useful accessories for an Apple Homekit-based smart home. One of them is the FibaroButton multifunctional controller that enables you to connect all Homekit-compatible products in your home and control them by a push of a button or with gestures. Its biggest advantage is that it allows you to control all the intelligent solutions of your home without any applications, individually or in groups.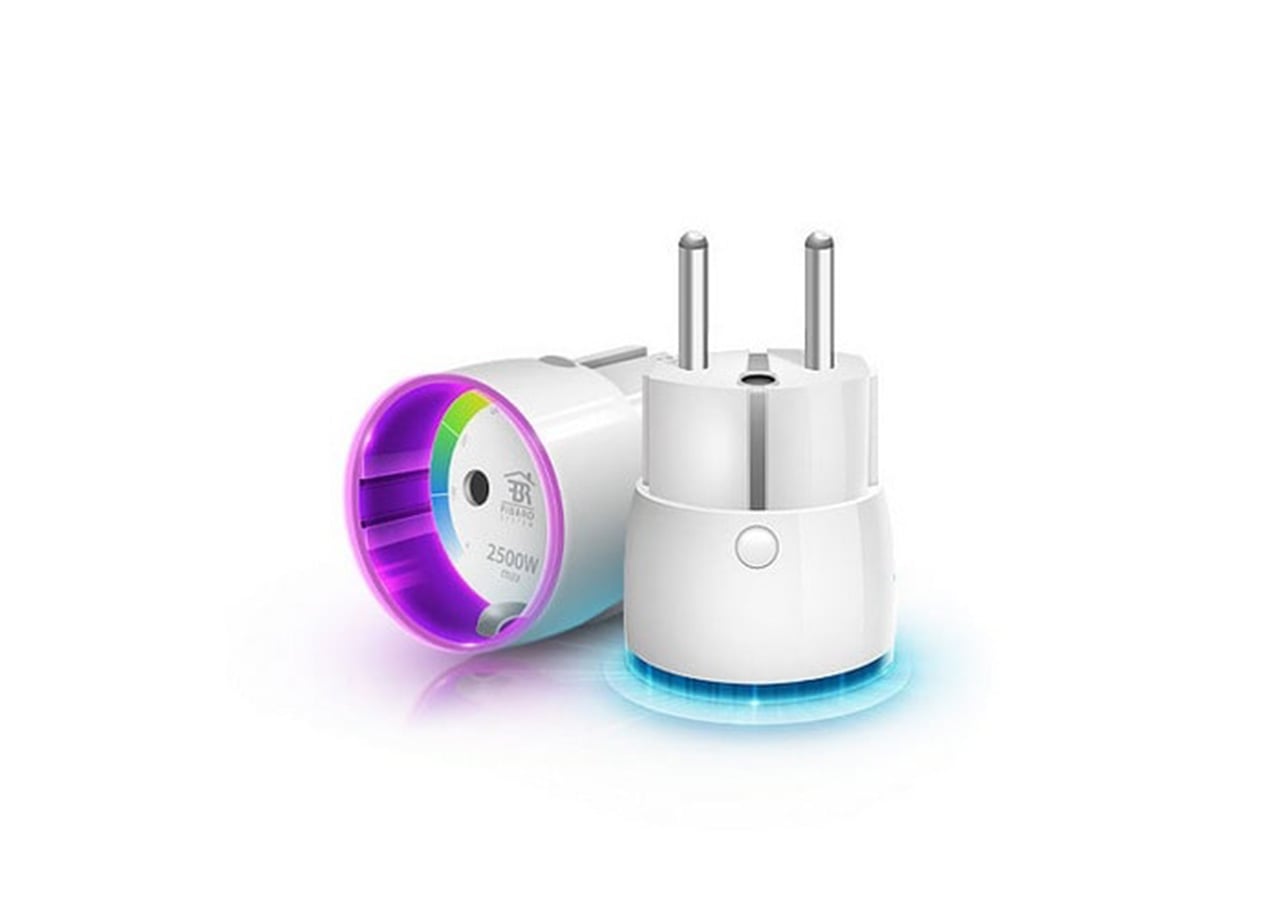 Another useful piece of kit is the Fibaro F wireless wall plug that enables you to turn the connected device on or off from your phone, or rather from the application running on your phone. The plug has a built-in power meter so it can warn you if a device is consuming too much power or even if you forgot to turn off one of your appliances.
Netatmo thermostat
Installing a smart thermostat allows you to reduce your costs and increase your comfort in any smart home. Netatmo's solution is one of the most popular devices for Apple Homekit. For all the good reasons because you can turn heating on or off even from your workplace while it has its own artificial intelligence enabling it to adapt to your habits and to the outside temperature. You can set up your time of arrival and what temperature you prefer, and the unit will do the rest all by itself.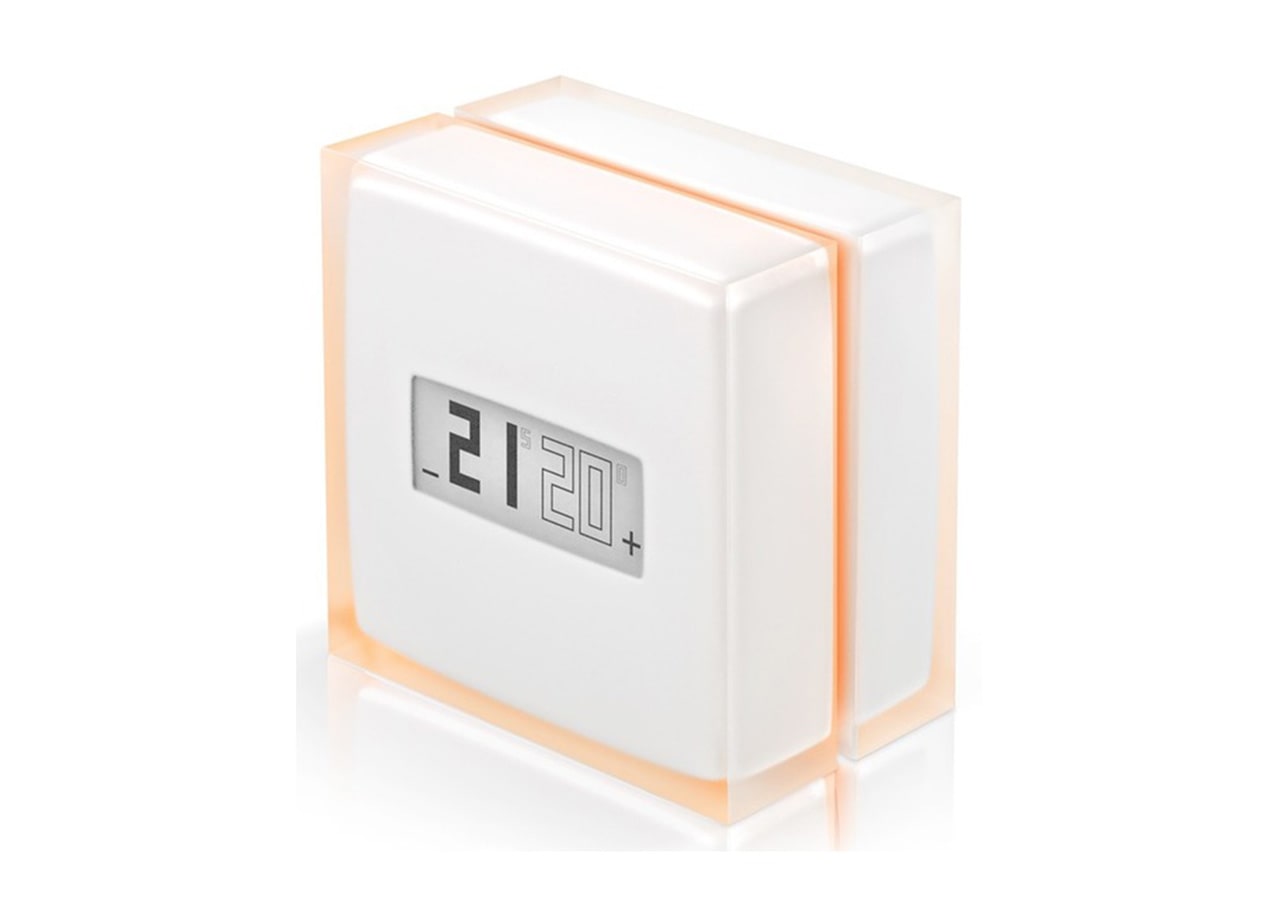 The related application not only allows you to apply a variety of energy saving settings but it will send you regular reports of your energy consumption habits, too. It can also communicate with outside and inside sensors to adjust the temperature in various parts of the home, i.e. you can turn down the heating in the kitchen and turn it higher in the bath etc.
eufyCam 2 Pro wireless safety camera
We all place serious emphasis on home security. If you have a smart home you can employ some highly intelligent solutions to achieve this goal, thanks to the eufyCam 2 pro wireless security camera. It allows you to see in FullHD what is going on around the house or in different rooms. It has an IP67 rating so it can withstand the weather and its advanced night vision mode will record sharp video footage even at night.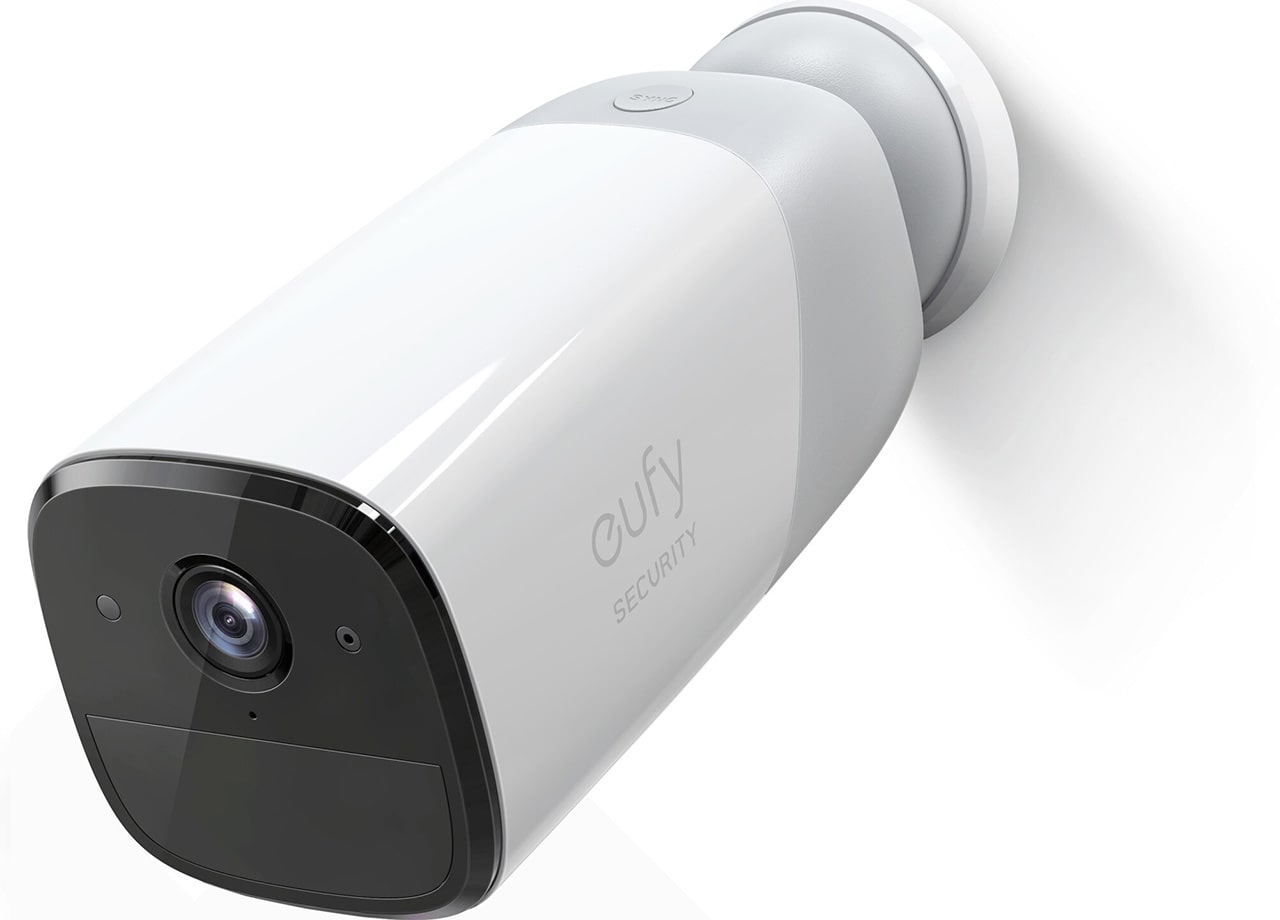 The eufyCam 2 Pro is an intelligent device so it is not surprising that it has some advanced features such as person detection, military-grade encryption and the possibility to set up surveillance zones. The icing on the cake is that the manufacturer opted for a highly advanced battery technology which will give you up to a full year of operation on a single charge.
Apple Homekit will only become a fully-fledged smart home system if it is paired with Chameleon Smart Home
One of the key characteristics of Apple Homekit is that it is a closed system that can work with the devices connected to it but if you aim for a totally immersive smart home experience that can fully meet all your needs then you will need a little help – such as the smart home solution of Chameleon.
The Chameleon Smart Home System will complement Apple Homekit perfectly because there are still many smart home devices on the market that are not compatible with the closed system offered by the giant from Cupertino. If you want to connect such a device or if you wish to combine some existing components with Apple Homekit, you will need an interface that will act as an "interpreter" that ensures a seamless communication.
If you do not deploy a Chameleon Smart Home System, then Apple Homekit will be just another closed component of your home. Chameleon will enable it to communicate with practically any smart home device, including those added to the system at a later time or even the latest ones out there. This is an important aspect you will need to consider if you decide to build your future smart home around Apple's solution.
The future of Apple Homekit
Apple Homekit is one of the fastest developing smart home systems today. Even though as a closed system it has its own limitations, there is always a solution to overcome the difficulties – see above – and, judged by the latest developments, Apple itself is making some attempts to open up to the market.
Besides, Apple offers continuous hardware and software development to ensure that existing and future systems can work in an increasingly professional manner, offering new and even more comprehensive possibilities to their users.
Apple has always been a stalwart of patenting and it has a host of prototypes in the pipeline waiting for the necessary technological background to become reality. Looking back on the past few years Apple never ceased to announce a constant flow of new products and solutions. The tempo is expected to become even faster to take advantage of the continuous growth of the smart home market. Apple is a company intent on staying on top of things in this industry, too.
We expect further opening to other systems
The introduction of CHIP, that is "Connected Home over IP" will have a huge effect on the entire smart home industry. It will be a big step forward for Apple Homekit, too: the manufacturer joined the alliance developing a common smart device language that will enable third-party products communicate with Apple Homekit. In short, CHIP will eliminate the concerns related to the closed nature of Apple's smart home system.
Thanks to this open standard you will no longer need to consider whether a certain product can communicate with Apple's system when you are planning a new smart home or implementing an upgrade: the new standard will guarantee that you will be able to connect most devices. This will enable Apple to take a huge step forward.
Apple's expected new development projects
As discussed above, Apple caters for a constant flow of novelties and developments that may affect all parts of a smart home. The latest forum where of such novelties were announced was the 2020 WWDC event and they promise some significant steps forward for Apple.
New automation features offer new possibilities inside a smart home and will enable Homekit to come up with its own suggestions for different scenarios: it may automatically open the garage when someone in the family arrives home by car and the cameras recognise the vehicle. Customised lighting routines will enable the system to adjust light temperature to the time of the day to ensure an optimal and comfortable illumination at all times.
Face recognition will be another key aspect in the future: a security camera at your entrance door equipped with the Homekit Secure Video application can alert the family to the arrival of an acquaintance. Further encryption and security development projects are also pending notwithstanding the fact that at present, Apple's solution is already one, if not the best of its genre.
One of the signs of these security developments are the new features that will become available in Homekit compatible routers in the near future. They will provide a separate firewall for all the individual devices, i.e. if any of them becomes the victim of a cyberattack it will keep the others safe from criminals. This means that not only will other parts of your home be securely protected but your personal information, too.
Chameleon is a "system-independent smart home expert". This means it adapts not only to the weather, your rhythm of life and your mood, but also to the next generation of systems. Because it provides a rugged, flexible core infrastructure to which you can connect any manufacturer's product - anytime.
---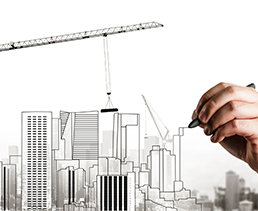 DISCOVER THE SMART HOME